Figures from the animal pounds in Fargo, Moorhead and West Fargo show that 132 cats and 22 dogs were euthanized at the local pounds in 2013.  Of the 132 cat euthanizations, all were considered feral or injured/ill and needed to be humanely euthanized.
Please continue to help local pet rescue organizations by adopting homeless pets.  The great majority of our pets come from the pound, so adopting opens up our resources and allows us to rescue more from a needless death.  Lets keep up the great work that all area rescue groups are doing and keep the euthanization numbers down!  Thank You for your support!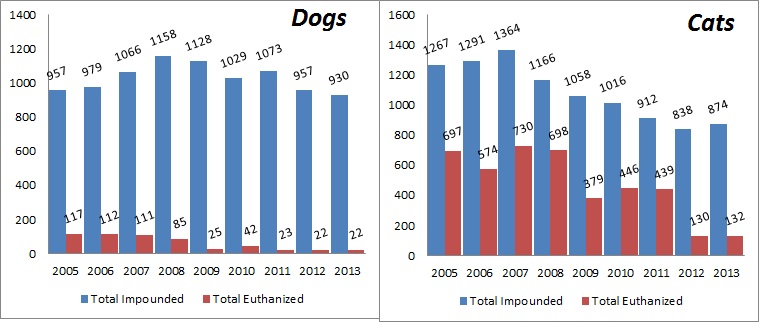 With the help of its volunteers and supporters, Adopt-A-Pet has been able to rescue many animals every year, but we would love to rescue many more. We especially need more foster homes for cats and dogs in order to save more adoptable pets from being killed. Please keep reading to learn about ways you can help save more adoptable pets.
How YOU can help
Consider being an Adopt-A-Pet foster parent

Foster parents take Adopt-A-Pet cats or dogs into their homes and care for them until they are adopted. Adopt-A-Pet covers all medical expenses for the rescued animals and reimburses foster parents for the costs of food and litter. The animals are featured on our web site and foster parents bring them to Petco twice a month so we can find loving, permanent homes for them. To learn more about this opportunity, please leave a message on our cat or dog hotline (232-5856 or 232-5681).

Spay\Neuter your pets

Many unwanted litters of puppies and kittens are born every year and some of these undoubtedly end up in the pound or are surrendered to rescue organizations. Spaying and neutering are easy ways to control the pet population.

Keep your pets secured on your property

Many of the pets that rescue organizations see each year have obviously come from a home. Letting them roam unattended and off of your property exposes them to numerous risks, including attacks by other animals, diseases, getting lost, and being picked up by animal control officers (pets in the pound are kept only 3-5 days before being euthanized). Additionally, pets that are not spayed or neutered can contribute to the number of unwanted litters of puppies and kittens in our community if allowed to roam.

Adopt, Don't Shop

We always have plenty of cats and dogs in need of homes. If you don't find a pet you are interested in right away, be patient and check back later. Adopt-A-Pet takes in pets of all types, shapes, and sizes. If you adopt a pet, then that pet's foster home may be able to foster another rescue pet.

Support Adopt-A-Pet or other rescue groups financially or through donations of goods

Because we are a volunteer-run organization operating out of homes, your financial donation won't be spent on office space or salaries. Your money goes directly to benefit the animals by paying for their medical care, food, litter and other needed supplies. If you prefer, you can donate dog food, cat food, cat litter, and other supplies by placing them in the Adopt-A-Pet donation bin placed in the front of the Fargo Petco store.