You can view a grid (thumbnails) of the Adopt-A-Pet dogs here.
If you are interested in a dog, please send us a message or call our Dog Line at 701-232-5681 and leave a message. Please leave your name, phone number, why you are calling, and the best time to reach you.
We try to return messages within 48 hours, but if you don't hear back from us after 48 hours, please feel free to contact us again. Please keep in mind that voicemail/email is monitored by volunteers and occasionally our schedules may cause some delay in getting back to you. Thank you for your patience.
If interested in a pet, please review our Adoption Process.
A ' ~ ' preceding the pet's name indicates it is a Courtesy Posting . This means that the animal's owner or person caring for the animal has asked Adopt-A-Pet for assistance in finding a new home for the animal. The animal is currently NOT in an Adopt-A-Pet foster home and Adopt-A-Pet is NOT responsible for the animal.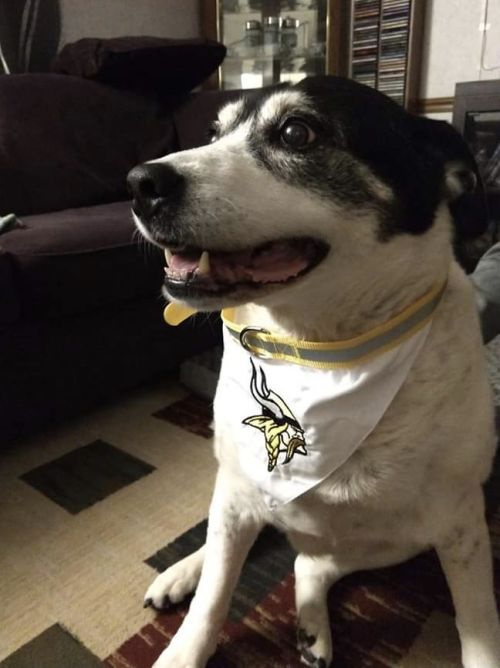 Australian Shepherd, Labrador Retriever
Spayed/Neutered
Up-to-date with routine shots
Ivy is a mixed-breed, spayed female approximately 13 years old. She is very affectionate with people and likes to play fetch and go for walks. I had her at the lake for the first time and she likes to play in the water. She hasn't gone deep enough to actually swim, but frolics where she can touch. She has had some training with Don Sullivan's Perfect Dog system. She walks well on a leash and has learned basic commands like sit, shake, down, back up and stay. Ivy is great with people, both adults and children. She does show aggression towards other dogs, however, we have been working with her on that as well as no barking. She is starting to warm up to strange dogs better than she used to. It takes careful and controlled/supervised introductions. She seems to do better with mid-sized to large dogs as opposed to small dogs. Once she is comfortable with another dog, she likes to run and play. She would need to have a fenced yard (minimum 5ft fence), and if there are other dogs in the house, they would need to get to know each other well before being left alone together. She has never been around cats or any other animals, and it wouldn't be recommended. She is not able to go to the Petco dog shows yet as there are too many "stranger" dogs for her, and it becomes too stressful. If you would like to meet Ivy, please leave a message on the dog line and we will return your call to schedule an appointment. She is a great dog with a lot of love to offer, in need of a forever home. She had a dental May 2014.
Adult, Female, Large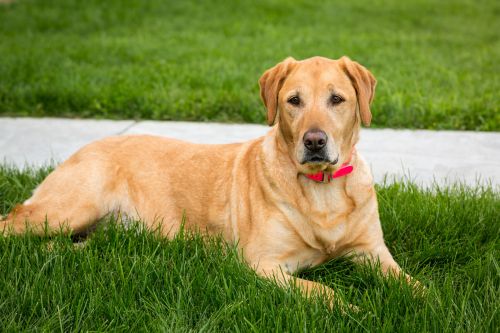 Labrador Retriever
Spayed/Neutered
Up-to-date with routine shots
Hi! My name is Laily and I would love to be your friend! I'm a 9 year old, medium sized, yellow lab. I know I'm a little old, but I've got a lot of years of love to give. I'm needing a new home because my human mom is moving far away down south to help with a chronic health issue she has, and where they are staying they can't have a dog. Can you imagine? 🙂 I have been with my family since I was just a little puppy and I have loved every minute of my life with my four boys and two cat friends, Bubba and Lulu. When people come to visit, I always hear them saying how well behaved I am... I don't even jump on them! After I've smelled them just a little, I let them know with lots of tail wagging that we are friends! I do like to bark at strangers though - but I always make friends quickly. On an average day, I love to hang out with my family (and have them rub my head and scratch my tummy), play a little fetch, go for a walk (I do know how to heel well on a leash, but I hate to brag). I love playing games my boys made up like "Hide the Treat" where I use my expert sniffer to find treats like cucumber or apple cubes, or once in a while a corn chip, which I love! I also love to play "Sniff the Packages". My human dad was a policeman so they thought it was fun to pretend I was a drug sniffing dog, only I sniff for treats, not drugs. I know the boys just hid treats on the package, but they got such a kick out of it, so I just played along. When it's cold and wintry, I love to lay on my raised bed and snuggle under a blankie. I also love being tucked in at night and being told 'good night'. I sleep through the night really well. I'm a mostly inside dog, but love spending time outside with my family or wherever you are. I've been spoiled by living in the country my whole life, so if you live in town, I might need a fence in the back yard so I don't go wandering around meeting all your neighbors! My most favorite thing in the world is to go for rides in the car - I'm pretty chill about that and don't get sick. 🙂 When my family is out of town, I love spending time at the Groom Room kennel in Hawley with Jane (the owner) and my pals, but I'm sure I would love other kennels too! I have a few things I'm not too sure about, like little kids - just not sure how to read their antics - and wild kids - same thing. My family was pretty calm. But, I can brag a little - I don't chew on things and don't have accidents. And so, I sure hope you see what a great addition I could be to your family now. I promise I will always love you and we'll be best of friends forever!
Senior, Female, Large