You can view a grid (thumbnails) of the Adopt-A-Pet dogs here.
If you are interested in a dog, please send us a message or call our Dog Line at 701-232-5681 and leave a message. Please leave your name, phone number, why you are calling, and the best time to reach you.
We try to return messages within 48 hours, but if you don't hear back from us after 48 hours, please feel free to contact us again. Please keep in mind that voicemail/email is monitored by volunteers and occasionally our schedules may cause some delay in getting back to you. Thank you for your patience.
If interested in a pet, please review our Adoption Process.
A ' ~ ' preceding the pet's name indicates it is a Courtesy Posting . This means that the animal's owner or person caring for the animal has asked Adopt-A-Pet for assistance in finding a new home for the animal. The animal is currently NOT in an Adopt-A-Pet foster home and Adopt-A-Pet is NOT responsible for the animal.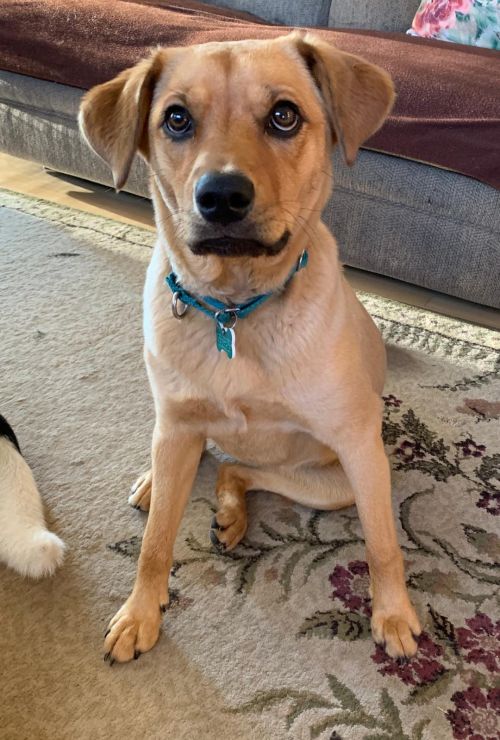 Terrier
Spayed/Neutered
Up-to-date with routine shots
Click on thumbnails to view video. Georgie is an approximately 10-month-old Terrier mix. She weighs 39 lbs. She is a sweetheart! When I first got her she was afraid of the world!! She is doing better everyday and doing well at my house with me and my dog. She does well with people that she knows and dogs at the park! She loves to run and try to play with the dogs that she knows! She is cautious of new people and sensitive to noises. I don't think she would do well in a busy household or with children under 10. We went to beginners obedience class and in the beginning I would have to carry her in. Now she goes in on her own! She loves the instructor! We made it through the first and second sessions! I have taken her to pet stores and she gets very nervous! I have also taken her to Runnings to walk around. She gets nervous around carts and loud noises. She will have to go to a home that is willing to continue obedience classes and introducing her to new surroundings. She is a work in progress but well worth it!! She loves it outside and digs in the snow! She hops through the snow!! If interested please go to our website at www.adoptapetfm.org and fill out a preadoption application or call 701-232-5681. Her adoption fee is $200. REQUIRES FENCED YARD
Young, Female, Medium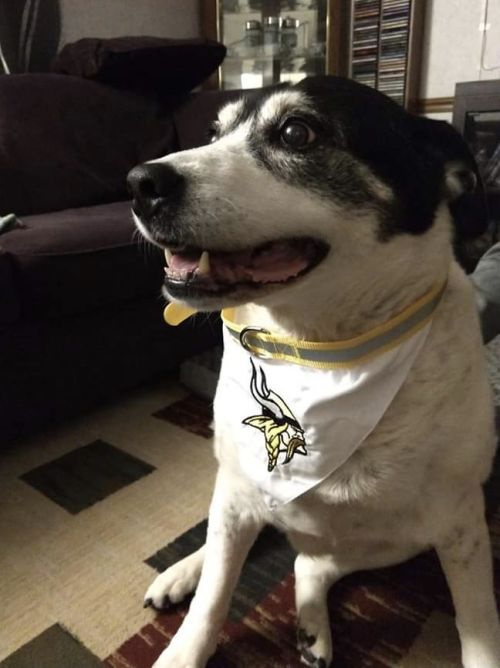 Australian Shepherd, Labrador Retriever
Spayed/Neutered
Up-to-date with routine shots
Ivy is a mixed-breed, spayed female approximately 13 years old. She is very affectionate with people and likes to play fetch and go for walks. I had her at the lake for the first time and she likes to play in the water. She hasn't gone deep enough to actually swim, but frolics where she can touch. She has had some training with Don Sullivan's Perfect Dog system. She walks well on a leash and has learned basic commands like sit, shake, down, back up and stay. Ivy is great with people, both adults and children. She does show aggression towards other dogs, however, we have been working with her on that as well as no barking. She is starting to warm up to strange dogs better than she used to. It takes careful and controlled/supervised introductions. She seems to do better with mid-sized to large dogs as opposed to small dogs. Once she is comfortable with another dog, she likes to run and play. She would need to have a fenced yard (minimum 5ft fence), and if there are other dogs in the house, they would need to get to know each other well before being left alone together. She has never been around cats or any other animals, and it wouldn't be recommended. She is not able to go to the Petco dog shows yet as there are too many "stranger" dogs for her, and it becomes too stressful. If you would like to meet Ivy, please leave a message on the dog line and we will return your call to schedule an appointment. She is a great dog with a lot of love to offer, in need of a forever home. She had a dental May 2014.
Adult, Female, Large